Holiday Special! Dec. 17-27, 2016. 10 days for the 1 week holiday rate of $7200. Spend a relaxing holiday in paradise or give your family a gift that they will remember forever at a this special rate.
Lattice House with its spectacular South Pacific Coast views of the Whale's Tail, the Osa Peninsula, the surrounding mountains and jungle, and its indoor/outdoor design is the ultimate tropical luxury vacation home.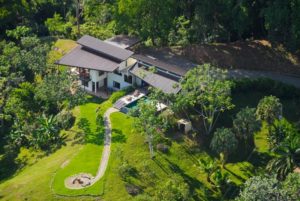 Lattice House is truly unique, and offers what few luxury villas can match…
– A beautifully designed and appointed luxury vacation villa
– 40 mile views of the coast
– A 75 acre private reserve shared with only one other property with   orchards, waterfalls, jungle trails, landscaped gardens
– Privacy & Seclusion
– On-site concierge to assist with transportation, activities, reservations, chef services. On-site grounds-keeping, maintenance, and security.
Location….. Access right off the coast highway. (No need to spend your precious vacation time driving up and down the mountains over Costa Rica's notorious roads to get to activities, supplies, and restaurants.)
Location…. Three minutes to the beach below, and minutes to the many beautiful beaches up and down the coast.
Location……The perfect altitude. High enough to catch the   mountain and ocean breezes and escape the humidity and insects of the beach, but low enough to hear the surf pounding on the rocks below.
{Click on Any Image to Begin Full Slide Show}