Meet Ana Montesino (upper right hand corner), our full-time manager and concierge, who lives on the property and will ensure that your stay at Lattice House will be trouble-free and memorable.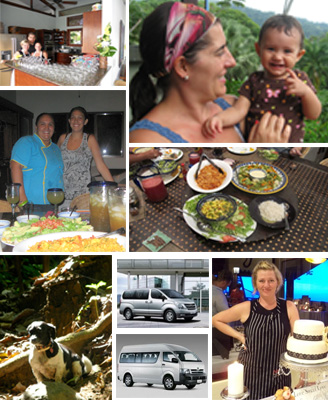 Ana will greet you upon your arrival, give you a tour of the house and ensure you know how everything works. She will be available throughout your stay.
Among the services Ana can provide are:
Transportation. She can arrange a van or taxi to meet you at the airport and whisk you down to Lattice House. She can arrange a rental car to be delivered to the house that afternoon, the next morning. Arrive at the house in less than 3 hours, relaxed and ready to begin your vacation on the first day. Or she can have your car ready for you on your arrival at the airport.
Personal Chef and Menu Planning. We have several local professional chefs available to prepare meals at the house or to cater in. Enjoy a traditional Costa Rican dinner on your arrival or a gourmet dinner for a special occasion. Ana will work with you in advance to plan your meals and menus.
Activities. Enjoy the many activities the South Pacific Coast has to offer. Ana can help you plan in advance or upon your arrival, to make sure you have a reservation for the more popular activities in the area.  "Oh, and meet Ocita (bottom left). If you would like, she will be your personal guide to the waterfalls!"
Restaurants. The Dominical and Ojochal areas have many wonderful restaurants. Most are small, and in the high season you will want reservations. Ana will be happy to make your restaurant reservations for you.
Yoga, massage. Have a private yoga class or massage at Lattice House or attend any of several group yoga sessions in the area. Ana will help make all the necessary arrangements.
Groceries/liquor. Provide a list in advance, and Ana can pre-stock the pantry for a small service charge.
Don't see a service you would like to have? If it is available, Ana will work with you.