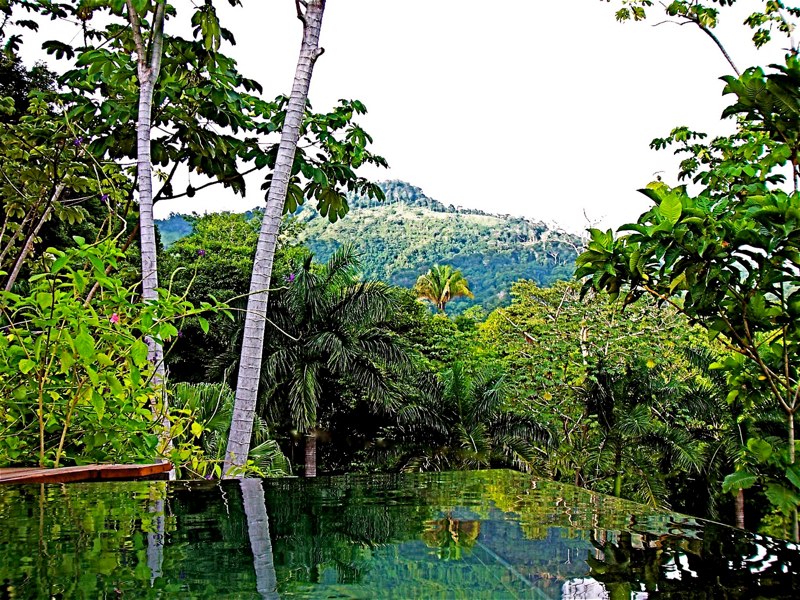 Reserva de Achiote, the private reserve, encompasses over 75 acres shared with only one other villa.  Each villa is completely private and secluded.
As you enter the gated reserve right off the Costenera, you immediately feel its magic as you make your way up the half kilometer royal palm-lined drive. Through large park like spaces, past the orchards, you see the towering jungle to the right, and may even catch a glimpse of a coati-mundi or agouti scampering off as the car approaches.
As you approach the house and look back toward the ocean, you are awestruck by the panorama of whitewater coastline, mountains and rainforest, all unspoiled.
Welcome to your own private paradise
The largest area on the reserve is maintained as jungle–primary rain forest and old secondary, crossed by streams and lovely waterfalls. Except for the jungle trails, this area is untouched.  The trails are well-maintained — easy trails following the streams on the property, and a 40 minute trail leading trough an adjacent reserve to a series of spectacular waterfalls and swimming holes.
Reserva de Achiote is home to many tropical animals and birds and we are pleased to maintain the reserve and share our home with theirs.
{Click on Any Image to Begin Full Slide Show}